MUSIC LESSONS
Interested in setting up lessons with our professional, friendly instructors at the Sound Factory?
$22 per half hour private instruction lesson
$32 for two students in one half hour lesson
$42 for a one hour lesson
WHY CHOOSE SOUND FACTORY FOR YOUR MUSIC LESSON?
The best rates for music lessons in Prince George!
Fun, friendly, knowledgeable, experienced and qualified teachers
Inclusive, encouraging, safe and family-friendly environment
Student-oriented curriculum – all genres of music welcome
Two full acoustic drum kits in our drum lesson room, not electronic drums
On-going registration and no set terms – enroll for as long as you like
Flexible payment options, direct invoicing to homeschools and First Nation bands possible
Flexible scheduling and fair cancellation policies
Fully accessible space – automatic doors, wheelchair accessible lesson rooms & washrooms
Students of all ages, learning and physical abilities warmly welcomed
Sweet student discounts on all retail merchandise in the store
Conveniently centrally located at 15th and Nicholson – lots of parking
Voted #1 for music lessons in the 2017 PG Citizen Reader's Choice Awards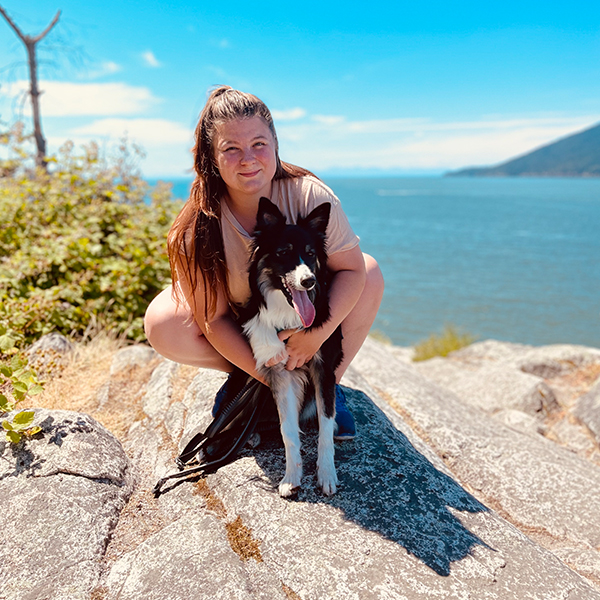 Paige Marriott
Vocals & Music Theatre
Paige is a graduate of Capilano University's Musical Theatre program. Paige was born and raised in Prince George and has been a part of its music community since 2009. She has performed solo, as a duo, and in a band at The Festival of Trees, charity events, and the BCNE. You may have seen her recently in Sound Factory's house band, Good Juju.  Some of Paige's theatre credits include: Musetta, La Bohème (Fraser Lyric Opera); Villager, Beauty and the Beast (Judy Russell Presents); Mrs. Lynde, Anne of Green Gables (CapU Theatre); Mrs. Medlock, The Secret Garden (Arbutus Studio). Paige studied classical voice under Melanie Nicol before leaving for university where she studied acting, dancing, and singing. At Capilano University she practiced Alexander Technique and the Estill Voice Method. Check out her Facebook Page: Paige Nicole, or on YouTube at Marriproductions1.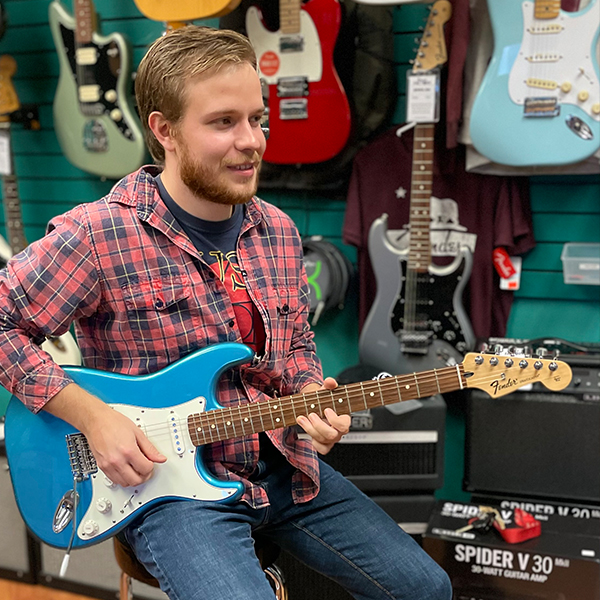 Matt Sargent
Guitar & Ukulele
Matt grew up listening to classical guitar music and started to learn classical guitar standards around age 12. After being exposed to the music of The Beatles, Matt became fascinated with the sounds available from the guitar and would spend several hours every day trying to perfect the riffs from classic rock bands like Led Zeppelin and Black Sabbath. He soon became involved in the Quesnel music scene, playing in youth groups, high school jazz band, local rock band The Wharf, and recording lead guitar on a melodic death metal album. Around that time, Matt became interested in playing progressive rock and metal, and also began to explore other instruments including bass, ukulele, keyboard and vocals. Since moving to Prince George for university, Matt has continued to perform at local venues, both solo and with other local musicians. Matt loves jamming with other musicians and is keen to discuss the history of rock music and the tones available from different guitars, amplifiers, and pedals. He enjoys listening to a variety of guitar music including rock, blues, classical, country, metal, folk, and jazz. Matt's aim as a teacher is to gently guide students to discover their passion in music, and tailor his teaching curriculum around what is exciting and motivating for the student. Matt believes in developing a solid foundation in music theory and technique, and directly applying this foundation to appreciating, understanding, and mastering the type of music students are interested in.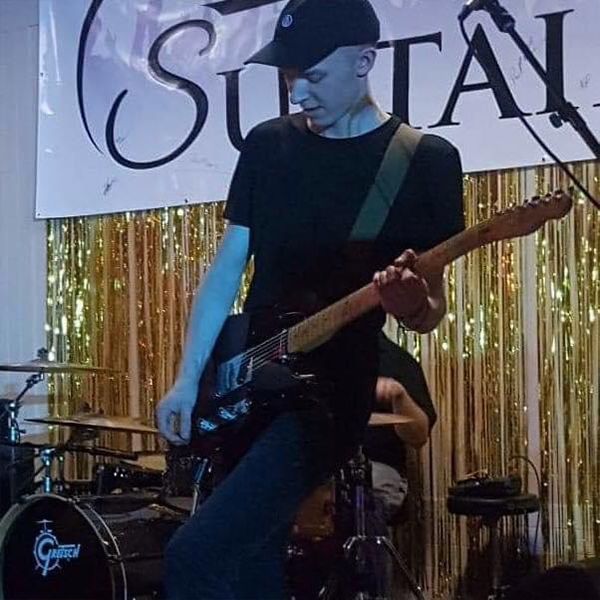 Nic Funk
Guitar, Ukulele, Bass & Drums
Nic started playing music at the age of seven. He was born into an extremely musical family, and from a young age was very fond of punk and metal music. Through the years, Nic has expanded his skills to many different styles and genres through playing in multiple bands. Being raised in a healthy music scene in Terrace, BC, Nic has been very involved with music in many forms, from playing in pubs to teaching a variety of students. He has a true passion for bringing music into people's lives. He believes in making things simple and fun, so even the youngest beginner can stay engaged.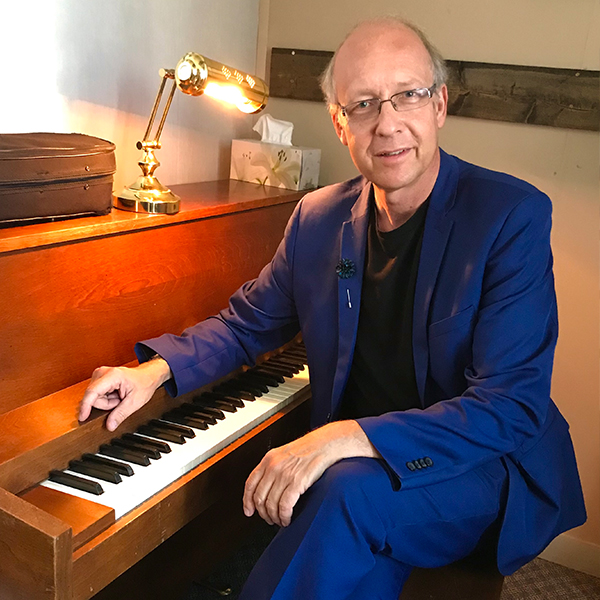 Karl Andersen
Piano, Violin, Flute, Cello, Clarinet & Music Theory
Karl completed his Bachelor of Music and Master of Music degrees at the University of Victoria and holds an ARCT in Piano Performance. Karl has been a member of the BC Registered Music Teachers' Association in Prince George since 1998 and has extensive experience and training in teaching children and adults of all skill levels and learning abilities. Karl is one of our most popular music instructors; he connects well with his students through his unique sense of humour and natural teaching skills.
Justin Gendreau
Drums
Justin was 16 when his friend rented a drum kit. It was love at first clumsy beat and he convinced his parents to let him buy his own kit. After much practice and a taste for the thrill of playing live, he began studying music performance at Vancouver Community College with a focus on congas and drum kit. This led to over 20 years of teaching experience and performances at venues including Vancouver's renowned Commodore Ballroom and the legendary ArtsWells, Robson Valley, Kispiox Valley, Midsummer and Woodstove music festivals in BC. Locally, he has played every venue in town, ranging from the outdoor mainstage of the 2015 Canada Winter Games to Vanier Hall with the PGSO. Justin is passionate about sharing his knowledge of rock, jazz, blues, funk, R&B, bossa nova, samba and country with a friendly, methodical approach. He is currently in several local bands and hopes to return to a venue near you soon.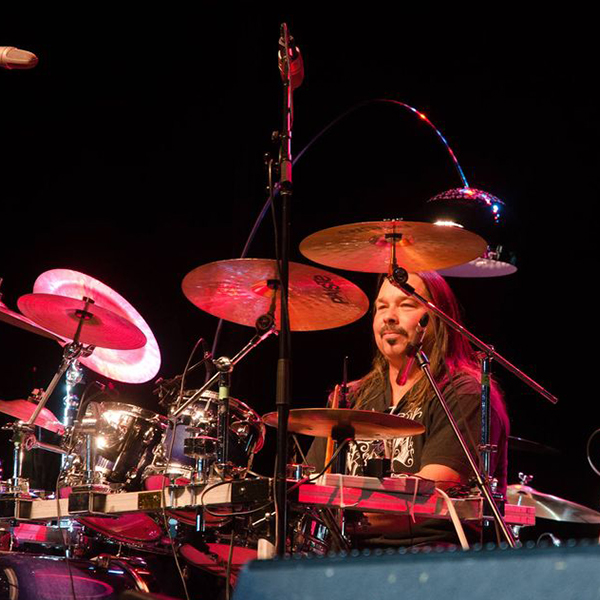 Kirby Gerrie
Drums
The Man. The Myth. The Legend.
John Hughs
Electric Bass
John has been playing string instruments for 35 years and bass guitar has been his primary instrument for the last 20. Although experienced in several styles of music he prefers hard rock. Most recently, John has played bass in an extremely popular Metallica cover band from Prince Rupert called Replica, and now plays lead guitar in the band.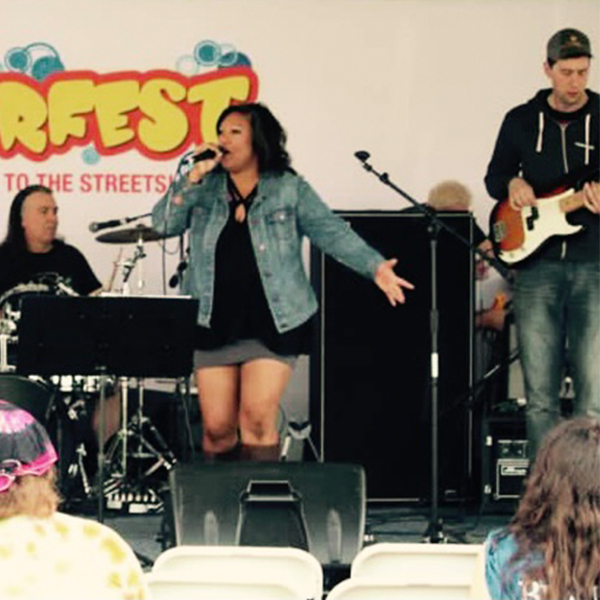 Aidyl Jago
Music Camp & Learning Support
Aidyl Jago began playing music when she was knee-high to a grasshopper. She spent her youth studying piano, violin, woodwinds and guitar, but has always found her greatest strength in vocals. She has been in countless choirs, stage performances and rock and roll gigs since elementary school, performing classical music in choirs, orchestras and concert bands, crooning as a solo singer-songwriter and lending her powerful vocals to rock bands from Toronto, to Arizona to BC. These days, you can find Aidyl boogeying down with dance party band Good Juju, and performing with her husband Paul in their many different musical projects (notably, "Unearthing the Gandharvas"). Aidyl holds a Bachelor of Applied Arts from Ryerson University in Radio & Television Arts, where she learned fundamentals of live audio production, on-air performance and studio recording, as well as a Masters in Business Administration from UNBC. The Jagos took over ownership of Sound Factory in January 2017, are the proud parents of two amazing neurodiverse kids. Aidyl dedicates her life to her kids and to creating a fun, safe and inclusive space for folks of all ages and learning abilities to follow their passion and learn how to play and create music!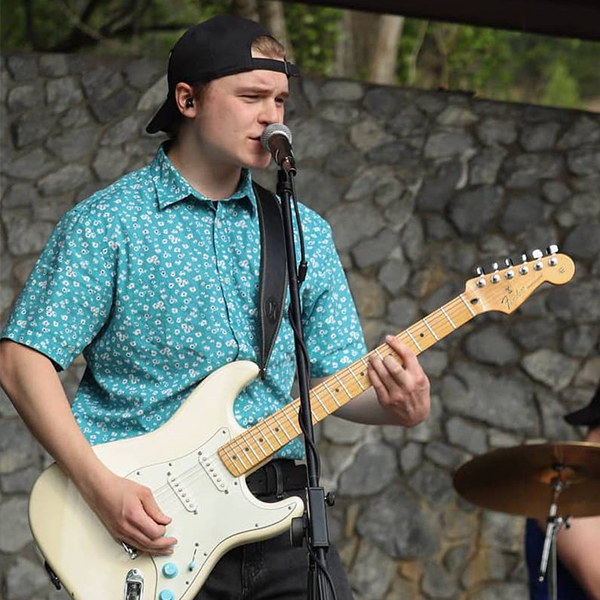 Connor Rogers
Guitar & Ukulele
Connor was introduced to music at a young age and quickly became obsessed with the music found in his parents' collection (The Moody Blues, The Beatles, Eric Clapton, etc.). After picking up a guitar when he was 12 and discovering harder rock music, he became enthralled with the raw power and energy of live performance. Soon he was drawn to explore other genres that would become his favourites, such as hip hop, folk, and ambient music. With a couple microphones and a DIY attitude, he recorded his first album at the age of 16. Since then, he has played venues around Prince George and joined a local punk rock band, Ice Cold Mood.
Connor is committed to student development through a carefully considered approach to each student's goals and focuses. Emphasizing practical technique and creative composition, Connor is dedicated to help students cultivate self-expression through music!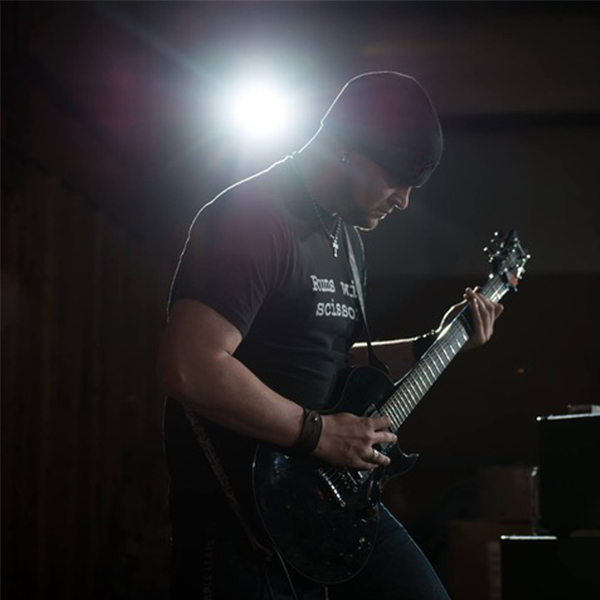 Damian Murphy
Guitar & Ukulele
Damian Murphy was born in Newfoundland but grew up in Prince George and in the local metal music scene. He was heavily influenced at a young age by music in his parents' classic rock and country record collection (The Beatles, Johnny Cash, Elvis, Nitty Gritty Dirt Band, Buddy Holly, etc.). Damian is the youngest of four, with a brother and sisters also playing music growing up in the 80s, from hair metal, rock, pop to alternative rock, punk and grunge in the 90s. Damian started playing guitar when he was 15 years old, inspired by the music he grew up listening to and then, later on, Heavy and Thrash Metal (Metallica, Megadeth, Slayer & Sepultura) practising 4 to 6 hours a day. Taking to the guitar quickly, he formed a band and played his first live metal show when he was 17 years old in Prince George at the Rollerdome, like so many in the local scene, and has continued to do so over the next 20 years. Damian enjoys rhythm playing when playing the guitar, electric or acoustic, and has always been a sucker for a catchy riff or a beautiful melody.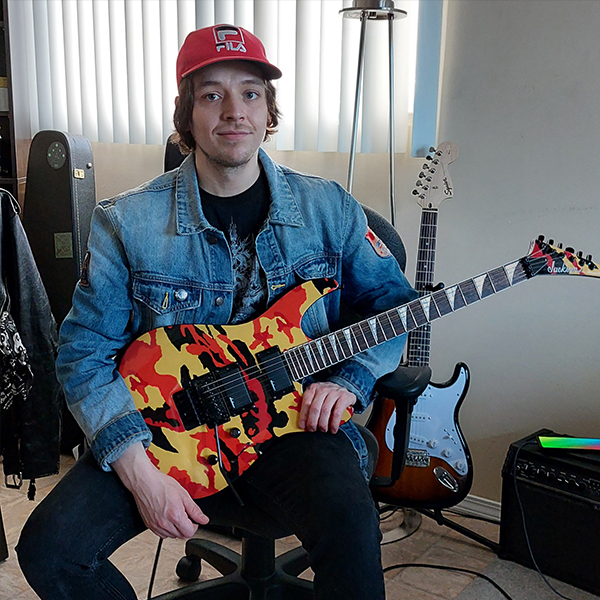 Jimmy Fabius Brown
Guitar, Ukulele & Bass
When Jimmy was a child he was heavily influenced by his parents taste in music, which exposed him to a huge variety of music genres, ranging from heavy rock such as Led Zeppelin, to new wave like Duran Duran. After a few years, Jimmy's interests in music grew beyond just being a listener: he wanted to play. Jimmy started out on acoustic guitar to test his determination to learn, which quickly escalated to him playing all hours of the day, every day, for months, while learning a considerable amount of theory and technique. It was clear he had a talent. It wasn't long before his parents bought him an electric guitar and got him into guitar lessons. That was 17 years ago. Now, having studied numerous theories and deeper philosophical methods of learning, Jimmy has a deep understanding of music without being limited to a singular style, becoming truly a versatile musician. Unbound by theory or style, he is able to help others acquire the ability to learn whatever they desire in a fun and comfortable atmosphere.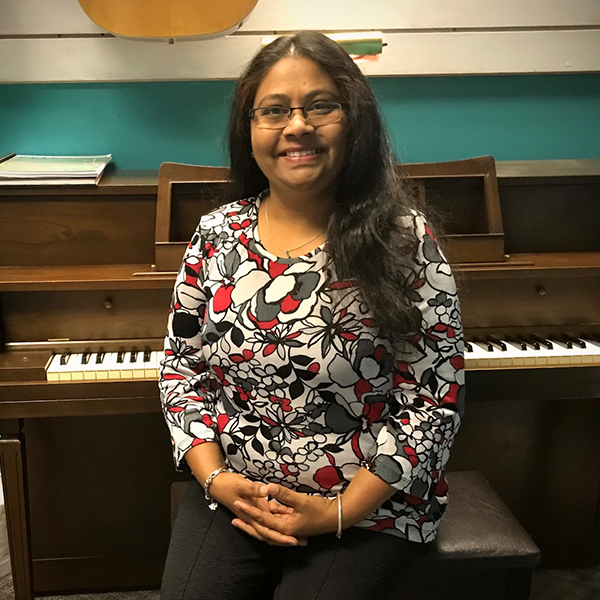 Suman Kumar
Piano & Keyboards
Suman has been teaching piano and theory for over 20 years. She has vast experience in teaching piano and keyboard methods for students of all ages. She specializes in preparing students up to their grade 8 exams, but also prepares for concerts, recitals, or competitions. Her strengths are patience and making learning fun and meaningful, and most of her students have taken up music to a professional level.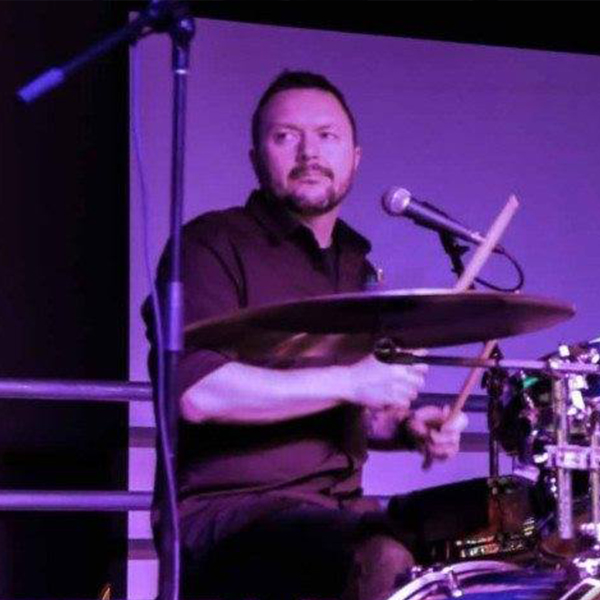 Noel Jago
Drums & Percussion
Noel started drumming at 8 years of age and wore out his parents' Beatles collection as he learned to play. During high school in Ontario, Noel studied with Jean Norman Iadeluca of the Hamilton Philharmonic Orchestra, performed with the Dundas Pipe and Drum Band, Hamilton Philharmonic Youth Orchestra, the Hamilton Concert Band while continuing to jam in the basement with various rock bands. Noel performed on numerous recording projects, including two major label releases, and has had a long career as a working "singing drummer."
Of note: Noel is also a graduate of the Canadian College of Osteopathy – Toronto and has been studying and practicing Osteopathy since 2010. Noel is passionate about Osteopathy and is committed to providing quality care to the residents of northern BC. For more information, please visit pgosteopathy.ca!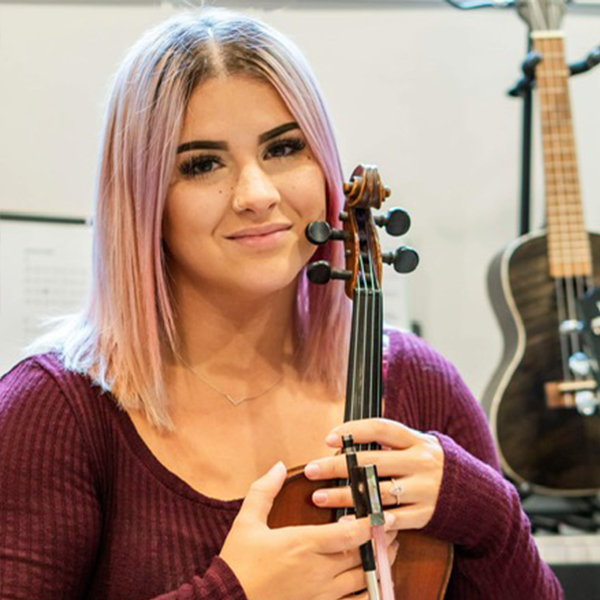 Arielle Logan
Group Fiddle
Arielle has been playing violin since the age of six. She has honed her musical skills through formal music education at the Conservatory of Music, private lessons, playing with the symphony, many workshops, fiddle camps, bands, self-education, writing her own music and countless hours dedicated to playing. Arielle has enjoyed exploring many instruments, such as violin, drums, cello, mandolin, vocals, guitar and her latest love affair, ukulele. Arielle has taught violin for 10 years with private students, the Nechako Fiddlers Group for 4 years, at fiddle camps, and previously at Sound Factory. Arielle brings an innovative spark with a collaborative teaching style.
Steve Smith
Group Jam
Steve has played guitar and bass for close to 30 years but is a bass player at heart. He has played so many live shows in so many venues he couldn't possibly count them all, from small pubs to arena shows and everything in between. Steve is currently playing with The Chris Goodwin Band, and you will also see him playing guitar with Good Juju. He is also a gear nerd and always love to talk musical gear. Steve loves to play bass and is excited to share his experience as a long-term working musician in his role as our Group Jam instructor.